I was watching Austin Powers the other night. I love those movies. As Bob pointed out in the comments on the Invisible Sandwich post, I do get a good bit of laughter from low brow humor. The funny thing is, when Austin Powers first came out, I thought it would be dumb. I didn't think I liked that sort of humor. My mom and sister encouraged me to see it and they were right. I loved it. I was hooked.
Looking back, I remember I saw a movie when I was in high school. I saw it at one of the first "parties" I went to where no adults were around. I don't know how many people saw this movie, but I still think it was really funny.
The user comments on imbd sums it up pretty good. 1984 was a big year for me as I began to form my identity. I think I probably saw this in 1988 or so since we had it on VHS. Talk about low brow humor, this movie had it all. I am still laughing as I type this. I agree that it is temping to highlight certain scenes but I think if I did and you hadn't seen the movie, you just wouldn't get it since it would be out of context.
This movie was a hidden gem, and growing up I came across other hidden gems. I used to work at a record shop when I was in college and we rented movies. I got to see a lot of really good movies during that time. One of the things that I found somewhat interesting is the connections you could find amongst several movies. I was turned on to Jim Jarmusch in college. He is still one of my favorite film makers. Using him as a starting point, there are connections in various ways between, Joe Strummer, Dick Rude, Alex Cox, Tom Waits, David Johansen, John Lurie, Nick Cave, Neil Young, Iggy Pop, The Pogues, Elvis Costello, and other actors who have been in various movies with the above people. Aside from the movies, there is other evidence, like The Sons of Lee Marvin and the excellent "Fishing with John" series.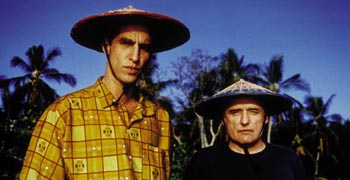 Let me get back on track here for a minute with the funny movies that I have seen over the years. Honestly, I could go on and on about good movies, but I started talking about low brow humor and here I am now talking about Indie films and conspiracy theories. If you've made it this far, I apologize.
Okay, so back to the low brow. I've never really enjoyed movies like Fast Times or Porky's. I think I like the low brow with a certain level of intelligence behind it. Animal House was like that. It was low brow alright, but it was put together intelligently and was done well. A movie that I happened to catch on the premium movie channels was:
Despite the alluring, yet misleading cover on the website, I found this movie to be a real surprise. First it was really well done. The story was interesting and situations the characters found themselves in was gut busting funny for me. I liked it so much, I found it used at a rental store, (when I first got a DVD player, the first previously viewed DVD I bought was Duece Bigalow for $1. I still maintain it was the best $1 I ever spent!). What was interesting about this movie, given the humor, was the attention to detail. This movie came out well before Pope Paul John II passed away. And in the movie, they did this whole scene around everyone mistakenly thinking the Pope died. I followed the Pope's death and the appointment of the new Pope pretty closely and watched the movie afterward, they pretty much got it right. It is a fun movie, but my Dad said it was too much for him.