Lucky you, two posts in a day.
Tonight, I took a trip down my memory lane.  I used to be really into a band called Bongwater.  I don't remember how I first heard of them but I do remember the first time I heard their CD.
Bongwater is made up of Kramer and Anne Magnuson.  Yes, that's right.  Anne Magnuson… that's what I said.  You're probably wondering why that sounds familiar.  She's an actress that was in many movies in the 90's including "Making Mr. Right."  I never saw it, but knew she was in it.
With the invention of the iPod and owning a decent set of earphones, I hear things in my music that I maybe hadn't heard before; more background sounds, someone talking, a riff, etc.  So listening tonight to Bongwater was a real treat.
I don't think I can do it justice to describe it.  Kramer is a genius and Anne sounds really good.  The songs are complex as they are clever and it's unlike anything else I've got.  Sure, there are similarities but the music stands out supreme.
I used to listen to Bongwater when I was in art school working on my BFA in graphic design.  This was in the early 90's.  Typically I'd be up almost 24 hours and this would be a perfect thing to listen too in that state of mind.  So listening tonight I am reminded of the creativity behind this music.   It is really creative and produced with such regard, it's very impressive.  I can only suggest you check it out in Pandora.
I had seen B.A.L.L in the 80's in Atlanta at the Metroplex.  Kramer was the drummer.  At one point in the show, he simply got up and left.  I think he went to get something to drink and the band played on realizing he was gone I think one song later.  I felt it was like an honor to have seen him.  At that point in time, I thought of him as one of the most prolific and creative people I had every heard about.
I had also seen King Missile here in Atlanta at the Masquerade.   At that point in my life, I had worked at a record shop and the girl who was our label rep at the time was going to have John S. Hall crash on her couch. I was invited to go but was with my little sister and felt like it would have been irresponsible to take her.   John S. Hall and Kramer did a spoken word album called "Real Men."  Great stuff.
Kramer had a record label called "Shimmy Disk."  I went on a bend to buy anything I could find on Shimmy Disk.  I got a pretty impressive collection and have all the Bongwater CD's.  Since I worked in the record shop, I was able to order anything I couldn't find locally and get my employee discount.
Kramer's Wikipedia page is a really good read.  I remember when he dropped out of sight.  I always wondered what happened to him.  As I read the page tonight, I was really happy to see that he is still around and successful. I'm sorry that he had some hard times but in the pictures on his site, he looks really happy and I am genuinely happy for him.
I was really interested to see what other bands Kramer was involved with.  They are all bands I really like.   To quote wikipedia:
Mark Kramer, known professionally as Kramer, is a musician, composer, performer, record producer and founder of the NY record label Shimmy-Disc. He was a member of such diverse musical entities as Butthole Surfers, Shockabilly, B.A.L.L., Bongwater, Ween, Half Japanese, The Fugs (1984 reunion tour), and Dogbowl & Kramer, and he also performed regularly with John Zorn and other improvising musicians of New York City's so-called "downtown scene" of the 1980s. His most notable work as a producer has been with bands such as Galaxie 500 (whose entire oeuvre he produced), Low (whom he discovered and produced), Half Japanese, GWAR, King Missile, The Tinklers, Alice Donut, Danielson Famile, Will Oldham's Palace Songs, Daniel Johnston, and the hit single for Quentin Tarantino's Pulp Fiction, Urge Overkill's "Girl, You'll Be A Woman Soon".
I was also very surprised to see what else he had been up to.   It was interesting to see his involvement in the whole "Slowcore" movement.  I have always liked Low and have seen Ween (before they had  drums, keyboard or bass), numerous times so it was cool that this is all interconnected.
One of my most prized possessions is  a CD someone gave me.  It's called "Smack My Crack" and is a various artists compilation.  There is a Butthole Surfers song on there that is not anywhere else, (best of my knowledge), and I remember reading somewhere that Kramer was in the band when their song was recorded for the album.  I can see it.  The song is great.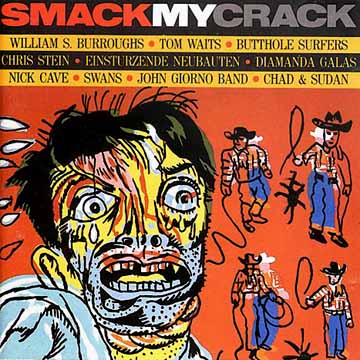 As I read these Wikipedia pages, my jaw drops as I see how much Kramer has touched or influenced over the years.  I also find it slightly eriee that 80% of the music I really like has some connection to Kramer.
Kramer, I love you, man! sniff sniff